ALL CARD PAYMENTS ARE PROCESSED VIA PAYPAL FOR ADDED SECURITY. NO NEED TO LOG IN OR SIGN UP.
It's a wonderful Aurora Lights projector coupled with relaxation sounds to help you fall asleep faster. It has 6 built-in soothing and relaxing nature sounds: white noise, ocean wave, summer night, thunder, brook, and rain that help lull you to sleep. If those aren't enough, you can even connect it to your Bluetooth if you wish to listen instead to lullabies or to your own collection of soothing music. 
You can control the device remotely so no need to stand up if you want to adjust the settings such as its brightness, volume, switch sounds, start or stop the rotation, set the timer, or even to turn the machine on or off. 
With its portable size you can easily bring it on your travels and you can charge it using your power bank.
---
BENEFITS
If putting on a gadget on your face or ears is not your thing then this night light projector is your best alternative as it allows you to play soothing music that can help lull you to sleep
The light show aids in conditioning your eyes as it projects realistic aurora borealis on your ceiling, making you drift slowly to sleep
Its six relaxation sounds slowly rock you to sleep; it imitates the sound of rain, ocean wave, and the peaceful flow of a brook
As it is portable you can bring it anywhere, a convenience you'll love if you can't sleep without the benefit it offers
---
FEATURES
7 Lighting Modes
You have an assortment of lighting effects, all projecting realistic aurora borealis lights on your ceiling. These light shows help condition your eyes to sleep. Some use the television to help them sleep, others use their smartphones but they can sometimes be a distraction. As you watch the dancing lights above you, before you know it you are slowly drifting to sleep. 
Remote Control Function
Convenient operation without need to get up and control the unit. You can control the timer, adjust brightness, turn up/down the volume, turn on/off the red light, control rotation, etc.
6 Relaxing Sounds
It has 6 soothing sounds: Ocean Wave, Summer Night, White Noise, Thunder, Brook, and Rain. Any of these built in sounds provide the necessary calming effect to help get you to sleep. As you close your eyes your mind is lulled into thinking that you are near a brook or by a beach. It relaxes your mind and your body responds by calming down and starts to sleep.
Handy Portability
The night lamp is handy and easy to carry. You can take it anywhere even on camping since you can charge it easily with a power bank. An added convenience if you have to stay for some time in another place.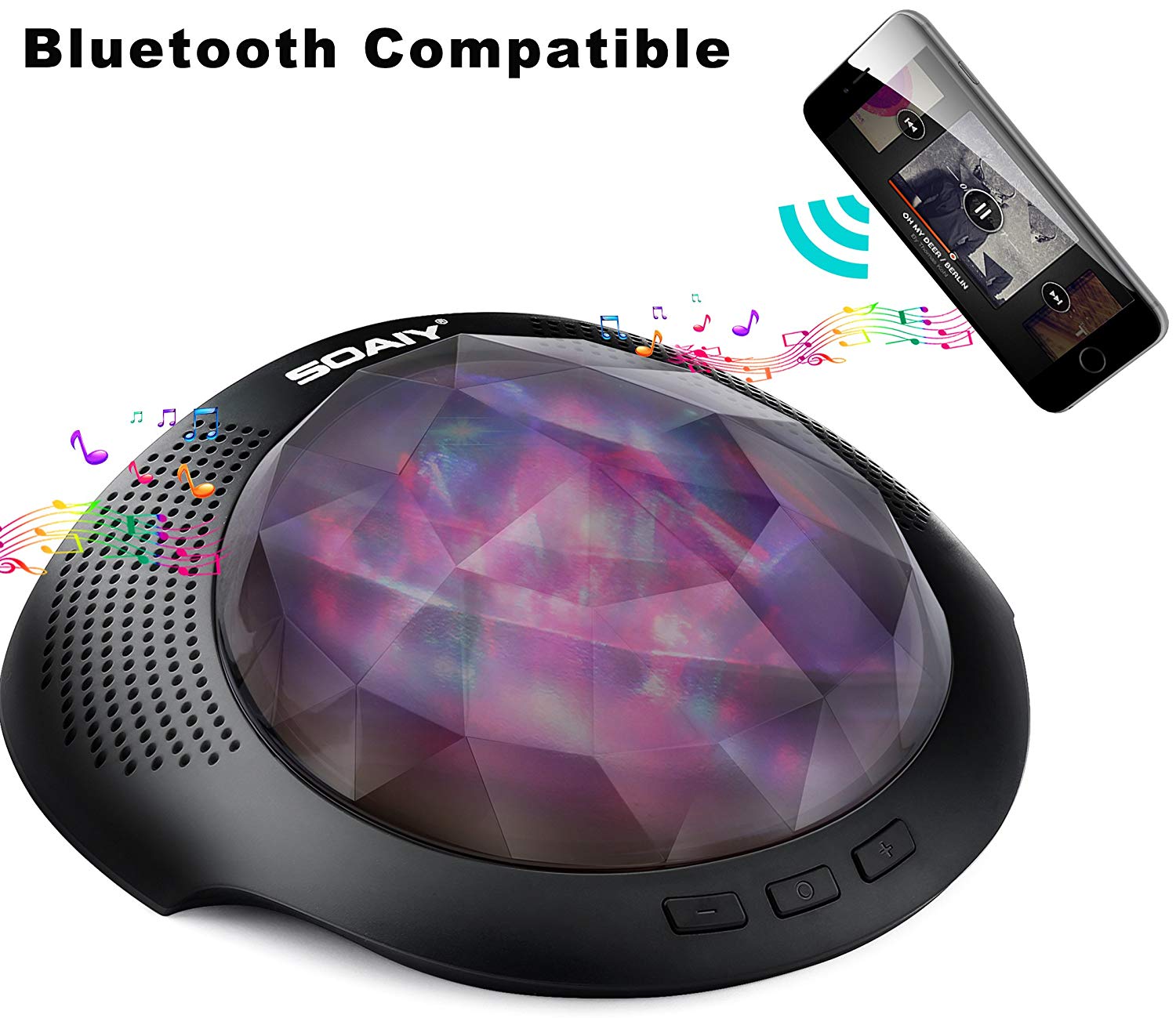 State Of The Art Bluetooth Connectivity
With its state of the art Bluetooth connectivity you can listen to lullabies, relaxing music, or even your most favorite sound right from your cell phone, iPod or tablet. 
Sleep Mantra
If you have some recorded mantra or a favorite narrated story that you use to help set you up for sleep you can play them via the Bluetooth pairing. You won't have to use any wired earphones or wear anything on your head to do this. 

 
                           3 Level Brightness                                        4 Timer Option                                            Rotate Function 
Premium Features                                                                                         Product Info
A night light and natural sound machine in one                                       Material                 Plastic
6 built-in nature sounds: white noise, ocean wave, summer night,            Size                       7.5" x 6.3" x 2.4"
thunder, brook, and rain                                                                        Package includes    1 x night light with speaker
Bluetooth pairing allows you to use it as a speaker if you wish to                                          1 x User manual
use your own sounds or music from your cellphone, iPod, or tablet                                       1 x 1.8m USB power cord
You can adjust the settings remotely                                                                                    1 x AC plug adapter
It has 4 timer options: 1-, 2-, 4- hours and timer off to keep on all                                         1 x Remote
night
Features 3 brightness levels: 30%, 60%, and 100%
Portable and can be carried anywhere
Can be charged using a power bank
Care
Fragile. Handle with care.  Avoid getting wet                         
Shipping
Ships within 4-5 business days. Orders will be processed within 2 business days of ordering. We do not ship on weekends.